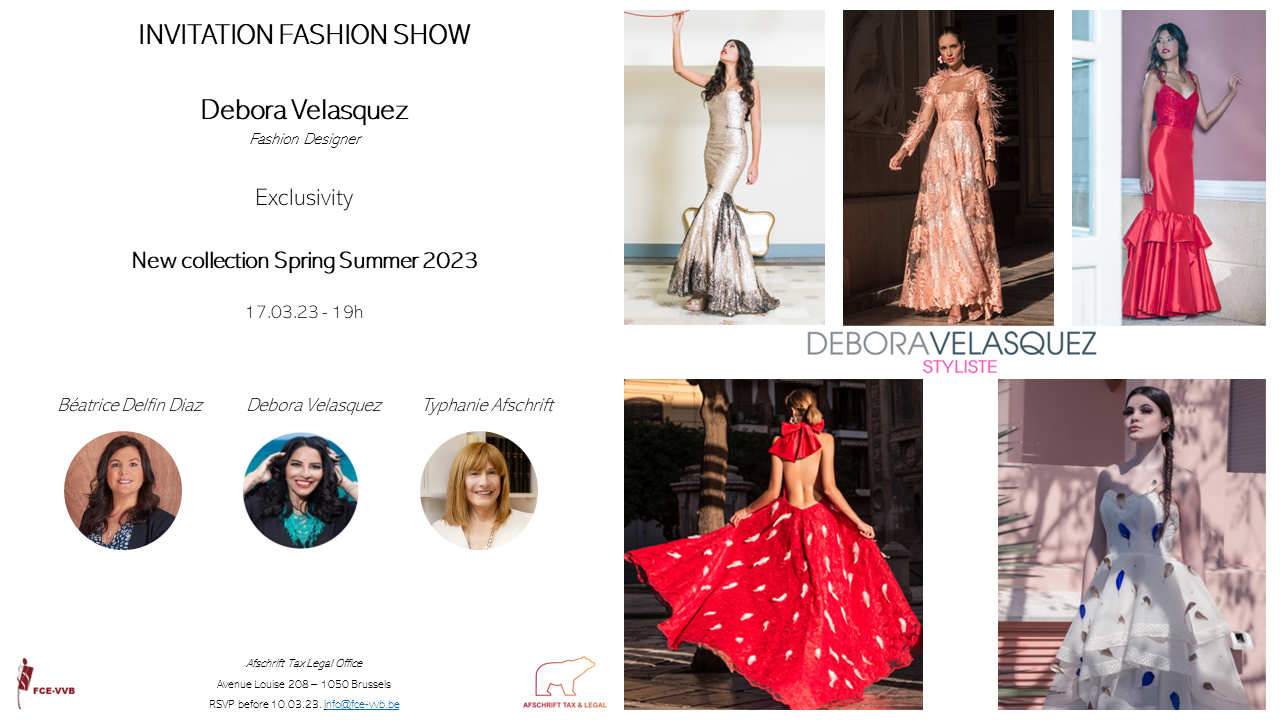 FASHION Show by Debora Velasquez
In exclusivity, Béatrice Delfin Diaz , national president & Katia Delfin Diaz, VP Brussels, Debora Velasquez & Typhanie Afschrift, are very pleased to invite you to 𝒅𝒊𝒔𝒄𝒐𝒗𝒆𝒓 𝒕𝒉𝒆 𝐍𝐄𝐖 𝐂𝐎𝐋𝐋𝐄𝐂𝐓𝐈𝐎𝐍 - 𝑺𝒑𝒓𝒊𝒏𝒈 𝑺𝒖𝒎𝒎𝒆𝒓 𝟐𝟎𝟐𝟑

** Two members in the spotlight **
A great opportunity to discover 𝑡ℎ𝑒 𝑎𝑐𝑡𝑖𝑣𝑖𝑡𝑦 𝑎𝑛𝑑 𝑡ℎ𝑒 𝑎𝑚𝑎𝑧𝑖𝑛𝑔 𝑤𝑜𝑟𝑘 of a famous fashion designer (Argentina-Belgium), 𝑫𝒆𝒃𝒐𝒓𝒂, and discover the 𝑤𝑜𝑛𝑑𝑒𝑟𝑓𝑢𝑙 𝑜𝑓𝑓𝑖𝑐𝑒 𝑜𝑓 𝑎n international 𝑤𝑒𝑙𝑙-𝑘𝑛𝑜𝑤𝑛 𝑇𝑎𝑥 𝐿𝑎𝑤𝑦𝑒𝑟, 𝑻𝒚𝒑𝒉𝒂𝒏𝒊𝒆. We are very proud of our members and very happy of this great collaboration.

Address : 𝐴𝑓𝑠𝑐ℎ𝑟𝑖𝑓𝑡 𝑂𝑓𝑓𝑖𝑐𝑒 - 𝐴𝑣𝑒𝑛𝑢𝑒 𝐿𝑜𝑢𝑖𝑠𝑒 208, 1050 𝐵𝑟𝑢𝑠𝑠𝑒𝑙𝑠 as frm 7pm.
PAF : 30€ member - 40€ non member
To register to the event, please >>>>> SUBSCRIBE HERE  <<<<<
** PAYMENT BEFORE THE EVENT **
Please pay at FCE-VVB Belgium bank account : BIC GEBABEBB - IBAN BE85 2100 4611 8906
Communication : Nom+ prénom + société + FCE Fashion Show
Looking forward to welcoming you at this amazing event !
FCE-VVB Belgium
More information : info@fce-vvb.be